Bidding has ended on this item.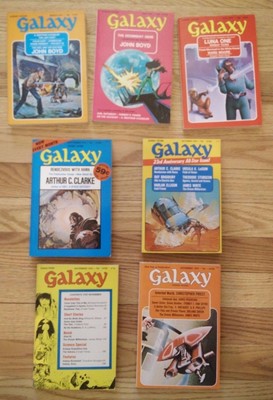 Similar items you may be interested in
Books > Magazine Back Issues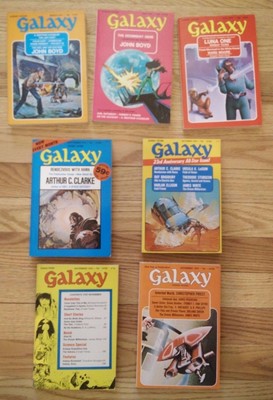 Similar items you may be interested in
Description
At auction, a lot of 7 issues of Galaxy Science Fiction Magazine from the year 1973. The specific issues in this lot are: - March 1973, stories by Herbert, Boyd, Clarke and more - May 1973, stories by Lafferty, Latham, Chapman and more - July 1973, stories by Taves, Moore, Perrin and more - September 1973, stories by Clarke (Rendezvous with Rama), Capp, Earls and more - October 1973, stories by LeGuin (Field of Vision), Ellison (Cold Friend) , Bradbury and more - November 1973, stories by Pohl (The Star), Wilson, Sheckley and more - December 1973, stories by Green, White, Priest and more.

The in idual magazines are all in excellent condition, with intact spines and bindings, complete front and back covers, no missing or loose pages, no tears, no markings, no foldovers or creases.

These magazines were well taken care of by a serious collector, and are now available.