This listing has ended.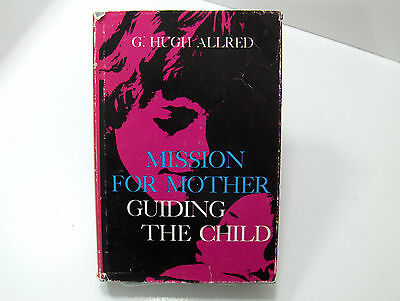 Similar items you may be interested in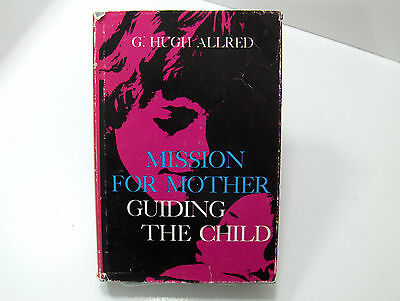 Similar items you may be interested in
Description
MISSION FOR MOTHER GUIDING THE CHILD Applying the Principles!!! By: G. Hugh Allred A Must Have!! Great Buy!!! RARE!!!! Since "life is produced without a rehearsal," Mother gets only one chance at raising her family.

When her children are grown, hindsight will prove to be a great teacher but a small comforter.

What Mother needs is a good guide along the way.

In Mission for Mother, G. Hugh Allred has produced that guide.

First setting out the objectives in raising children, the book then examines in understandable terms the psychological and religious foundations of child rearing and sets forth the principles for attaining the stated objectives.

This enlightening analysis occupies about one third of the book.

The remaining two thirds consists of highly practical applications of the principles already enumerated.

Realistic, day-to-day situations are briefly described and solutions given.

All this is done in an easily readable style and against the background of basic Christian beliefs.

Because Mother normally has the greatest influence on the children's upbringing this book is directed to her.

But the principles and practice it embodies apply equally, of course, to Fathers and to grandparents relationships with the children.

In fact, anyone who has care of children or who is a student will want to have this outstanding and immensely useful book within reach at all times.

Beyond Interesting!!! VERY HELPFUL!!! Inspired!!! This is a Used Hardback book in Good Condition.

No Inscription, No underlinings, No highlights.

Interior binding is tight.

Dust Cover has rubbing, edge and corner wear and tear but the hard boards under the dust cover are in Very Good Condition.

Pages are white and clean.

Overall Great Condition! Hardback book with 270 pages Copyright 1968, 6th Printing 1972 Printed in the United States of America By Publishers Press Measures 9 3/8" Length X 6 1/4" Width WONT LAST LONG!!! Look in my store for other Classic Books! Super-Dooper-Awesome!!! Great Resource!!! EXTREMELY INFORMATIVE!! HARD TO FIND!!! I have more LDS Books in My E-bay Store! Please see other items in our Please see other items in our store LDS Books and Goodies 4 Less at http://stores.ebay.com/ldsbooksandgoodies4less or let me know what you are looking for, I might have it or I will try to find it for you.

Be sure to check out our other listings!!! POLICIES: 1. S: are expected at the time the listing has closed and you have won the purchase, bid or offer.

If you can't pay immediately please communicate to me of when you plan to pay.

E-bay allows up to 2 days (48 hours) for payment.

PayPal is preferred and required by E-bay, but I will accept other forms of payment through the US mail if necessary. 2. ATTENTION: Before you purchase, please be sure to read the entire listing.

Please ask questions before bidding, buying or making an offer. 3. : Media Mail and Parcel Post can take up to 2 Full Weeks to arrive.

I do give a discount on shipping on most 'more than one' 'like items' purchased.

If for example it is more than one book and the shipping is $4.00 on all of them, the first book will be $4.00 and $2.00 every book thereafter up though 7 books, from 8 books and up, the charge will be $1.00 per book. 4. INTERNATIONAL : Only those countries E-bay supports.

I do not set shipping prices.

I send the package to an E-bay Hub and they disperse from there. 5. POLICY: We only know by Feedback left for us that the transaction has been successfully completed.

If you have issues regarding your purchase, please contact us and communicate with us so we can resolve any concerns.

I try to leave feedback once a week for all my sales in that week.

Please leave your feedback after receiving your item.

ALSO: Please do not judge poorly the shipping and handling time on your Feedback.

We ship Next Day in most cases.

To confirm this, look at the Post-mark Date on your package and compare it to the time your payment was received.

Once your item is shipped, it is Out of Our Hands. 6. PERSONAL: Please see other items in our store LDS Books and Goodies 4 Less at http://stores.ebay.com/ldsbooksandgoodies4less or let me know what you are looking for, I might have it or I will try to find it for you. 7. : Buyer must email within 2 days of delivery.

Refund will only be given if there was a discrepancy in item description.

All refunds will be total price paid minus shipping cost.

All refunds will be given through Pay-pal no matter how item was paid for, there will be a Pay-pal chargeback fee.

No refunds for loss or damage during shipment.

Thank you for your purchase it is Greatly Appreciated!!!