Bidding has ended on this item.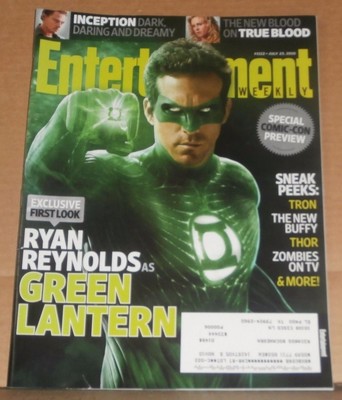 Similar items you may be interested in
Books > Magazine Back Issues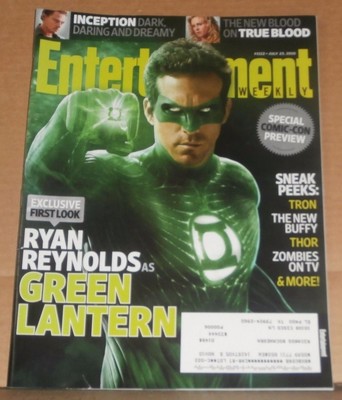 Similar items you may be interested in
Description
This listing is for Entertainment Weekly Magazine, Jul 23, 2010 issue.

This issue features a Ryan Reynolds/Green Lantern cover and article.

I would grade this issue as in Excellent (5/10) or better condition.

It is a nice copy with just some minor wear and creasing on the covers and spine.

It is being sold as is, so please study photos carefully before bidding.

Also I do combine shipping on multiple magazines.

A nice find for the Entertainment Weekly Magazine collector.

MAGAZINES: 10/10: Absolutely pristine, off-the-rack, perfect.

Ive never used this grade. 9/10: Mint.

About as perfect as can be.

The only difference between this and a 10/10 is that it may have been read once or twice before being put in plastic.

I try to avoid this grade. 8/10: Near Mint.

Clean and glossy.

Tightly bound.

No mailing label.

Not quite perfect, but almost.

The grade I give to magazines many others would put at a 9 or 10. 7/10: Excellent-Mint.

May have a mailing label if its still neatly affixed.

May have one noticeable minor flaw, such as a slightly curled up corner on one of the covers or a tiny crease on an inside page. 6/10: Excellent +. A copy thats been carefully read with two or three minor flaws.

Still very nice. 5/10: Excellent.

Exactly what youd think: Average.

A copy of a magazine thats seen its time on the coffee table but has not fallen prey to any mishaps. 4.5/10: Very Good-Excellent.

Just below average.

Read, not abused, with one flaw driving it below average.

Maybe a crease to one of the covers of an otherwise EX magazine, or an EX magazine that has slightly yellowed.

Light stress marks at the covers along the spine area.

Not a minor flaw, but just one little bit of damage that keeps it from being average on the eye. 4/10: Very Good.

A well-read copy of a magazine that may have a somewhat substantial flaw (a heavy crease across the cover perhaps, yellowed pages inside, a tiny tear on the edge) or a couple of minor flaws.

Stress marks at the covers near the spine area.

Still nice, still collectible. 3.5/10: Good-Very Good.

A couple of substantial flaws.

Still not terrible, but a copy that has enough warning signs that youd pick up to inspect carefully and look for more than obvious problems.

Perhaps a minor tear at the staples on the binding, or the beginnings of a split of the covers at either the very top or very bottom of the spine. 3/10. Good.

Now the magazine is getting a little beat up.

May have some minor binding issues but the pages are all still attached and present.

May have some soiling on the covers.

A stain.

Some minor tears but nothing torn off.

A slightly heavier fray splitting the top and/or bottom of the paper where the covers meet at the spine.

Whatever it may be, somethings wrong. 2/10: Fair.

Beat.

Binding may be starting to come loose.

Substantial tears in cover or inside pages, perhaps some small missing pieces as long as it doesnt affect the text.

Heavy creasing to covers.

Dirty. 1/10: Poor.

Torn pages.

Pages torn out.

Covers missing.

Heavy soiling and/or staining.

Bad, actually the worse.