This listing has ended.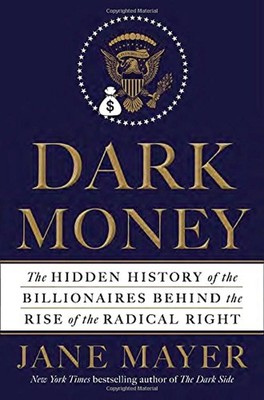 Similar items you may be interested in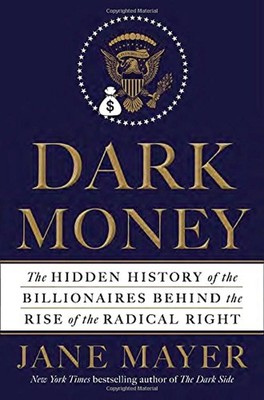 Similar items you may be interested in
Description
Dark Money: The Hidden History of the Billionaires Behind the Rise of the Radical Right Product Features Product Specifications Hardcover: 464 pages Publisher: Doubleday 1 edition (January 19, 2016) Language: English ISBN-10: 0385535597 ISBN-13: 978-0385535595 Product Dimensions: 6.4 x 1.3 x 9.5 inches Shipping Weight: 1.8 pounds Why Buy From Us? Trusted Seller, Great Feedback FAST Shipping and Tracking HUGE Discounts Excellent Returns Policy The BEST Customer Service Shipping & Returns We Ship Worldwide! 14 Day Money Back Return Policy Items Ship within 24-72 Hours Product Description Review ONE OF NEW YORK TIMES BOOK REVIEWS TEN BEST BOOKS OF 2016A Washington Post Notable Book of 2016"Mayer is. . . a writer whose reporting can leave a reader breathless. . . . I urge you to read Dark Money."—Bill Moyers"Jane Mayers Dark Money is utterly brilliant and chilling — no matter how much you think you already know. . . . Read it!"—Naomi Klein, bestselling author of The Shock Doctrine: The Rise of Disaster Capitalism and This Changes Everything: Capitalism vs the Climate "Jane Mayer's Dark Money. . . is absolutely necessary reading for anyone who wants to make sense of our politics.

Lay aside the endless punditry about Donald's belligerence or Hillary's ambition Mayer is telling the epic story of America in our time.

It is a triumph of investigative reporting, perhaps not surprising for a journalist who has won most of the awards her profession has to offer.... She's a pro, and she's given the world a full accounting of what had been a shadowy and largely unseen force. . . . Remarkable." —The New York Review of Books "The book is written in straightforward and largely unemotional prose, but it reads as if conceived in quiet anger.

Mayer believes that the Koch brothers and a small number of allied plutocrats have essentially hijacked American democracy, using their money not just to compete with their political adversaries, but to drown them out. . . . Dark Money emerges as an impressively reported and well- documented work. . . . The importance of Dark Money [flows] from its scope and perspective. . . . It is not easy to uncover the inner workings of an essentially secretive political establishment.

Mayer has come as close to doing it as anyone is likely to come anytime soon. . . . She makes a formidable argument." ­—From the cover of the New York Times Book Review "Revelatory. . .persuasive, timely and necessary. . . . Only the most thoroughly documented, compendious account could do justice to the Kochs' bizarre and Byzantine family history and the scale and scope of their influence." ­—The New York Times Read more About the Author Jane Mayer is a staff writer for The New Yorker and the author of three bestselling and critically acclaimed narrative nonfiction books.

She co-authored Landslide: The Unmaking of the President, 1984–1988, with Doyle McManus, and Strange Justice: The Selling of Clarence Thomas, with Jill Abramson, which was a finalist for the National Book Award.

Her book The Dark Side: The Inside Story of How the War on Terror Turned into a War on American Ideals, for which she was awarded a Guggenheim Fellowship, was named one of The New York Times's Top 10 Books of the Year and won the J. Anthony Lukas Book Prize, the Goldsmith Book Prize, the Edward Weintal Prize, the Ridenhour Prize, the New York Public Library's Helen Bernstein Book Award for Excellence in Journalism, and the Robert F. Kennedy Book Award.

It was also a finalist for the National Book Award and the National Book Critics Circle Award.

For her reporting at The New Yorker, Mayer has been awarded the John Chancellor Award, the George Polk Award, the Toner Prize for Excellence in Political Reporting, and the I. F. Stone Medal for Journalistic Independence presented by the Nieman Foundation at Harvard.

Mayer lives in Washington, D.C. Read more See all Editorial Reviews Please message us with any questions!