This listing has ended.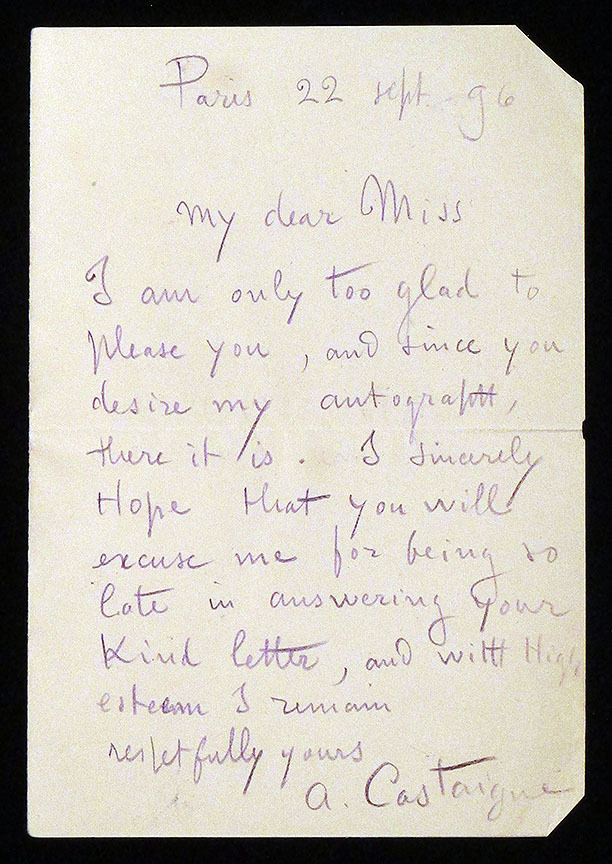 Similar items you may be interested in
Art > Art from Dealers & Resellers > Paintings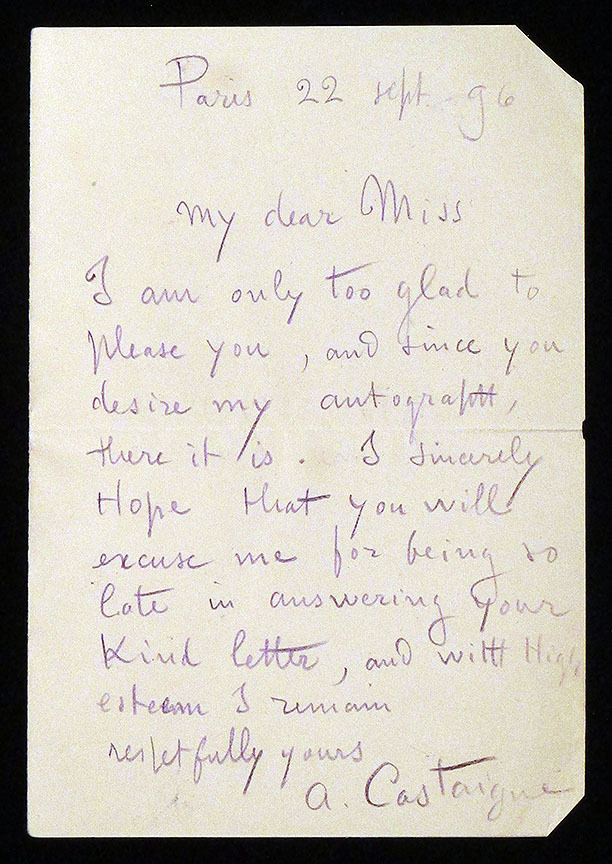 Similar items you may be interested in
Description
Behind the mask: Original handwritten letter from the original illustrator of The Phantom of the Opera Scarce original handwritten letter signed "A. Castaigne," Paris, September 22, 1896, written in violet pencil on an off-white sheet measuring approx. 5" x 3-1/2". Two clipped blank corners, and horizontal fold with slight edge separation (not affecting any text), otherwise clean and near fine overall.

Castaigne writes to a fan.

In full: "My dear Miss: I am only too glad to please you, and since you desire my autograph, there it is.

I sincerely hope that you will excuse me for being so late in answering your kind letter, and with high esteem I remain respectfully yours. . . ." Andre Castaigne (1861 - 1929), born in Angoulême, Charente, France, studied at the famed Académie des Beaux-Arts under Jean-Léon Gérôme and Alexandre Cabanel.

After early success in Paris, he moved to the United States, where he embarked on a prolific and successful career as an illustrator for some of the most notable magazines of the day, including Century and Harpers.

In 1896 he became the official painter of the first modern Olympiad in Athens, Greece.

He returned to France in 1895, where he maintained a studio, taught, and continued to do illustration work.

His most enduring work is likely his illustrations for the first edition of Gaston Leroux classic novel Phantom of the Opera (1910), for which he created the masked, grotesque face of catacomb-dwelling Erik, one of the most enduring fictional characters in twentieth-century literature.

Autograph material from Castaigne is quite scarce.

A rare opportunity for the devoted art, theatre, or cinema fan, offered with no reserve! All of the autographs I offer are guaranteed as represented.

See my other current auctions for additional artistic, historic, literary, entertainment, and other autographs from a recently acquired collection. : Successful U.S. bidder pays $3.00 for carefully packed First Class shipping (international bidders: inquire for rates) PayPal.

Please see my other auctions for rare and vintage books, historical and advertising ephemera, photos, artwork, and mid-century design.